"Tell me, Hero... what do you call yourself?"

This article is a stub. You can help Infinity Blade Wiki by expanding it.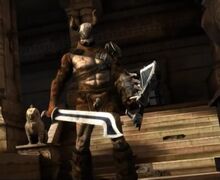 The Horned Chieftain is an enemy featured in Infinity Blade 2 & Infinity Blade 3. The Horned Chieftain wields Anarchax, which can only be unlocked in NewGame+ and ClashMob events. Unlike most large enemies, he doesn't wield a shield. Instead, he uses a gauntlet that acts like one.