"Tell me, Hero... what do you call yourself?"

This article is a stub. You can help Infinity Blade Wiki by expanding it.
"Oh, no! Isa lost the blueprint of this article!"

This article is missing an image. Please upload a sprite or screen shot of this item, or both if necessary.
"The Worker has altered the Q.I.P. of this Article."

This article is in need of cleanup, and may not live up to the standards of the Infinity Blade Wiki.
 You can help by editing it!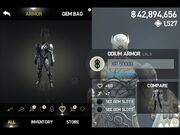 The Odium Armor is a set of armor added in the Blademasters update of Infinity Blade III. It is used by Siris. It has a health stat of +100, a dodge stat of +7, a circle gem slot, and a hex gem slot. It is available in the store for 425000 gold, and takes 50000 XP to master.
Note: This armor is the third strongest in the game, under only The Origin, The Dragoor Plate, and The Armor of Kings.