Warning: Spoilers/plot details follow.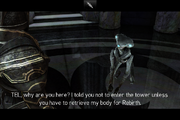 TEL, short for Transubstantive Entity, Lower-class, is a mechanical "transgolem" that serves as Ausar's assistant, retrieving his body and returning it to a rebirth chamber when he dies.[1]
TEL can morph into any element that it touches. In addition to shape, it can also change its size at will. At one point in Infinity Blade: Awakening, TEL transformed into leaves and became the size of a cat. TEL is described as having "gemstone eyes".[1]
Infinity Blade: Awakening
Edit
When Siris and Isa find a traveler under attack and decide to help him, the traveller is revealed to be TEL. TEL follows Siris and Isa as they travel. While traveling, TEL answered questions asked by Siris, as long as they didn't directly refer to Siris's past as Ausar. It is revealed that at one point in the past, Siris sent TEL to monitor him and perform tasks for him. TEL does reveal that Siris is its master, and that it must obey him, but it is not allowed to answer certain questions or perform certain tasks that conflict with its original instructions.
Infinity Blade II
Edit
TEL was added to Infinity Blade II in the Vault of Tears update. It follows the player around, appearing in random locations, only interacting with Siris when the Vile set is obtained and the Shrine is opened. TEL can be seen in the following locations:
Immediately after entering the castle, in the corridor.
In the courtyard with the statue, on a ledge to the right.
After entering the arena.
Between TEL and Siris
Tomb
Siris: TEL, why are you here? I told you not to enter the tower unless you have to retrieve my body for Rebirth.
TEL: Master, you must not enter the tomb!
Siris: Why not? What's down there?
TEL: I cannot say - I can only tell you that misery awaits you below.
Option 1: Disregard TEL and enter the tomb
Siris: I have to see for myself.
Enter the tomb and sees old memories
TEL: You were not supposed to see this, Master. These memories were supposed to stay hidden. Oh, this is not good, not good at all...
Option 2: Obey TEL's advice and not enter the tomb
Infinity Blade III
Edit
TEL makes an appearance in between Act I - The Anomaly and Act II - Buried in the Past, in between Act II - Buried in the Past and Act III - The Right Weapon, and in Act IV - Revelations. In Acts I, II, and III, there is just some scattered dialogue. In Act IV, TEL shows Siris the way to the Redeemer and helps him retrieve it.
Dialogue
Edit
Between TEL and Siris
The Hideout, just before Act 2
Siris: TEL, I need you to go to Drem's Maw.
TEL: What for, master?
Siris: The right weapon...
The Hideout, just before Act 3
TEL: Master, I went to Drem's Maw as you asked, but the man you seek is gone.
TEL: The villagers said the God King's monsters came. The smith was captured.
Act 4
Siris: Where is it, TEL?
TEL: Master, are you sure you want to -
Siris: WHERE!
TEL walks to the stone and pushes a rune
References
Edit